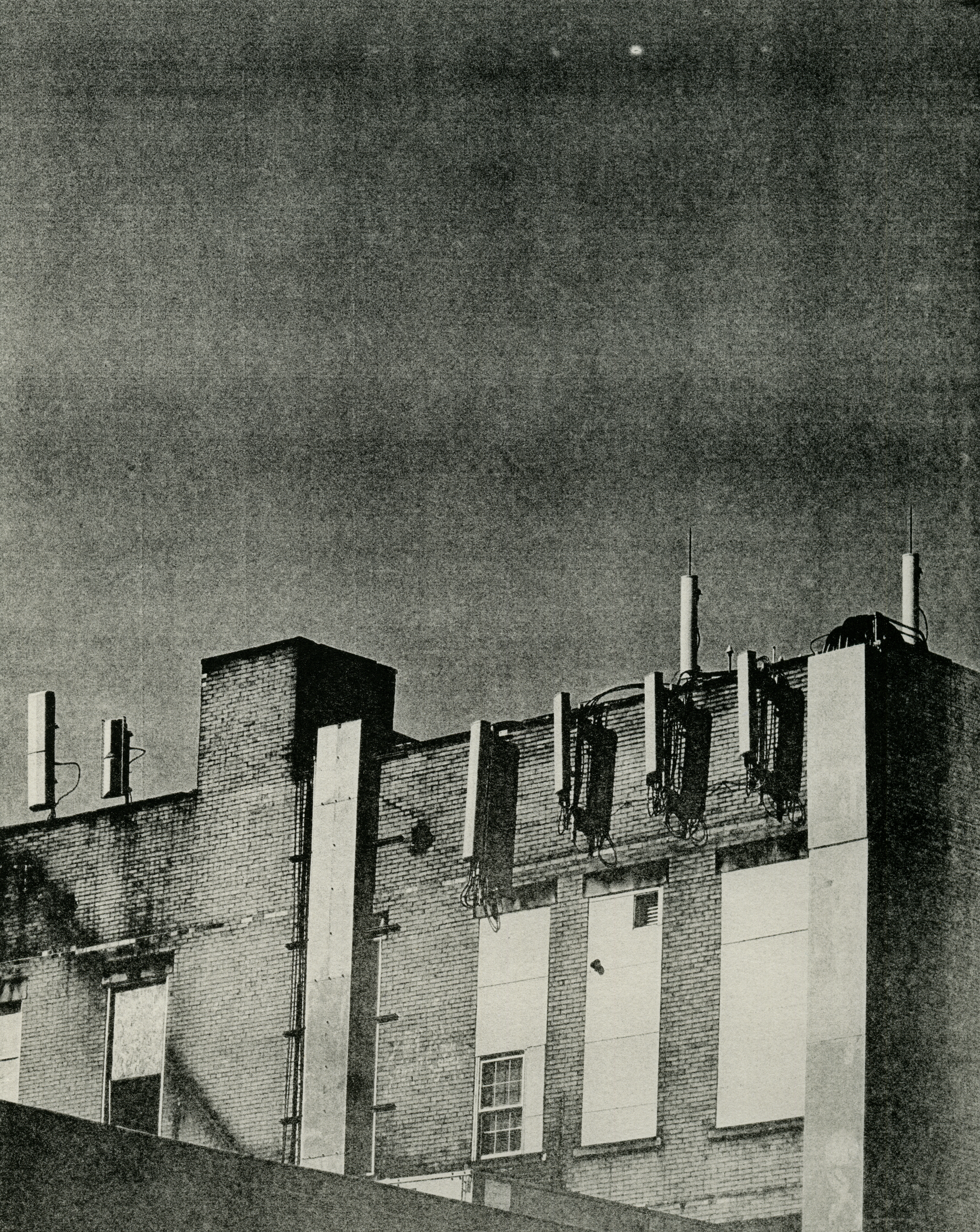 Society Digitized
8x10'' photo-lithographs on archival paper
17x21'' matted and hand-framed in birch plywood
Hand Printed

Artists proofs available
Supplemental 4x6'', 5x7'', 6x6'', and 7x7'' proofs available

These images depict the recent infiltration of technological infrastructure across Pittsburgh's landscape. These antenna systems, known as base stations or cell sites, include both receivers and transmitters, blanketing the area with a wireless telecommunication grid. I began photographing these sites in 2012 as they began appearing in my neighborhood. As demand for high speed wireless internet access grew, the frequency of their installation followed. I found this sweep of new high tech infrastructure invading the city skyline both intriguing and unsettling. Rather than presenting them in their original format—digital photographs—I felt that a more traditional printmaking process could better communicate an ominous sentiment, impose a science-fiction quality, and reference a long history of human communication. To me, these images are of Orwellian obelisks, information gatekeepers, vessels of immense power and knowledge in the 21st century.

Ironically, I turned to a digital process to complete them. Rather than using cumbersome stone blocks or metal plates traditionally used in lithography of the past, the lithograph "blocks" used to create these prints were made from specialized paper-thin plastic sheets. These lithograph blocks were printed with a laser printer from the original photographic image, coated with oil based ink on a roller, and run through a press to create the final "traditional" prints. These blocks are highly sensitive, breaking down beyond use after producing one to three prints.